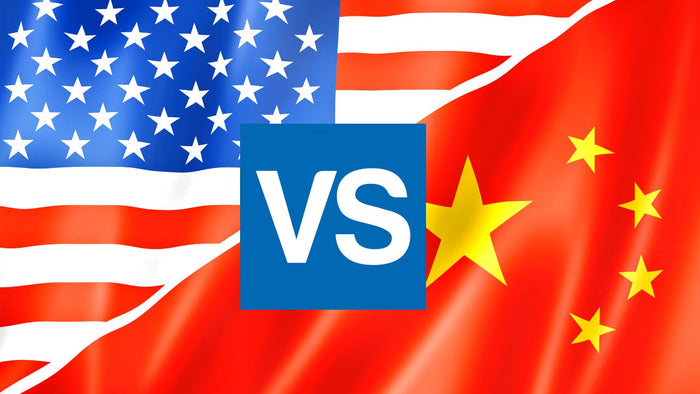 So you are thinking about sourcing your cloth wristbands from a factory in China...
Before you get all excited about the potential price savings, be sure you read this article to make sure you are taking all factors into consideration.  Having been working in the events industry since 2001, I have seen many a friend not get their wristbands delivered on time because they thought they were saving money...
Here are the main points to consider:
Product cost
Ordering woven or printed cloth wristbands directly from China will have you (at first) thinking you are saving a ton on product cost, which is usually the case if you are ordering in bulk (quantities > 10,000 pieces, the savings can be substantial).  Remember that product cost is only one of many different costs you need to consider.
Quality
There is a wide range of product quality when it comes to cloth wristbands.  If you do go offshore, be sure to have a variety of factories send you sample packs so you can compare the quality differences.  We're happy to do the same for you, so don't hesitate to ask us for a sample pack!  Some cloth wristbands we've seen can be quite thin, and even single sided meaning the inside of some printed cloth wristbands can look quite ugly (all of ours come with double sided printing).  
Security
It is also important to test the security enclosures.  We've carefully tested a wide range of security enclosures and found ones that we can't remove.  There are quite a few cheap options out there where you can remove the wristband by twisting the band and pushing it back through the closure.  I've personally been to festivals (Live at Squamish by Live Nation) where hundreds of people were swapping out wristbands to sneak in for free... so do not forget to test the security of the closure.
Duties & Tariffs
Depending on where you are based, there will be a significant charge from your customs broker to have cloth wristbands land in North America.  You want to find out what this charge will be, including the extra customs fees as this will help you to decide which route to take.  When you order from ClothWristbands.com, there are no hidden fees so be sure you are making a fair comparison.

Shipping
As shipping is always free at ClothWristbands.com, be sure you carefully factor in the costs for shipping if you are thinking about sourcing your cloth wristbands offshore.  You may also need to factor in the cost of 3-5 sample packs being air-mailed out as you compare product quality from multiple factories. It is those shipping costs which can add up quickly!
Scams
Be very careful who you order from.  There are many online scams where they will ask you to wire them money to get started on an order that never arrives.  Make the right checks to ensure you are purchasing from a reputable site with great reviews.
Refunds & Guarantees
If you order offshore and something goes wrong, it's highly unlikely you'll get your money back from a random factory.  Alternatively, If you work with ClothWristbands.com, you can have peace of mind knowing that your order is guaranteed to be delivered on time... or your money back.

Delivery Times
For all of us working in the event industry, we know how crazy things can get last minute, and often your wristband order isn't done months in advance as it should be.  If you source your cloth wristbands offshore, be sure you give yourself lots of extra time for shipping, especially considering that packages can often get held up in customs for additional delays.  Set up a relationship with a customs broker in advance, and make sure you are in regular contact with them so there are no surprise hold-ups.
Alternatively, if you order from ClothWristbands.com, we give you a guaranteed delivery time within 10-17 days and less for rush orders.  If you order offshore, be sure to give yourself a minimum of 30 days to be safe.
Conclusion
There are many different factors to consider if you are thinking about sourcing cloth wristbands offshore, vs ordering from a North American company.  Of course, we would love to have your business and do hope you see the benefits of ordering from ClothWristbands.com.  Then again, if you do go direct to China, we hope you take the above factors into consideration and have an awesome event!  If you have any other questions, feel free to reach out to me here.
Cheers!
Mike Schwarz
CEO, ClothWristbands.com
PS: If you end up going offshore, and you find yourself in an emergency situation because your product hasn't arrived in time, all of our pre-printed cloth wristbands can be shipped out the same day!